The power of DAM software inside your Microsoft Office tools
It's easy to reach brand compliance and brand consistency with Digizuite™
- Empower your employees by enabling access to approved images and logos in Microsoft Word, Excel and PowerPoint
If your marketing team functions as a bottleneck when someone requests your corporate logo to be sent, this is the perfect time to free up internal resources for more creative tasks. With Digizuite™ Microsoft Office Connector, you can provide all employees with access to approved images and logos in the popular Microsoft Office tools – Word, Excel, and PowerPoint – directly through Digizuite™ DAM. No more emailing colleagues with large attachments. The latest version of your logo is always available, in the right format and size - using no additional manpower.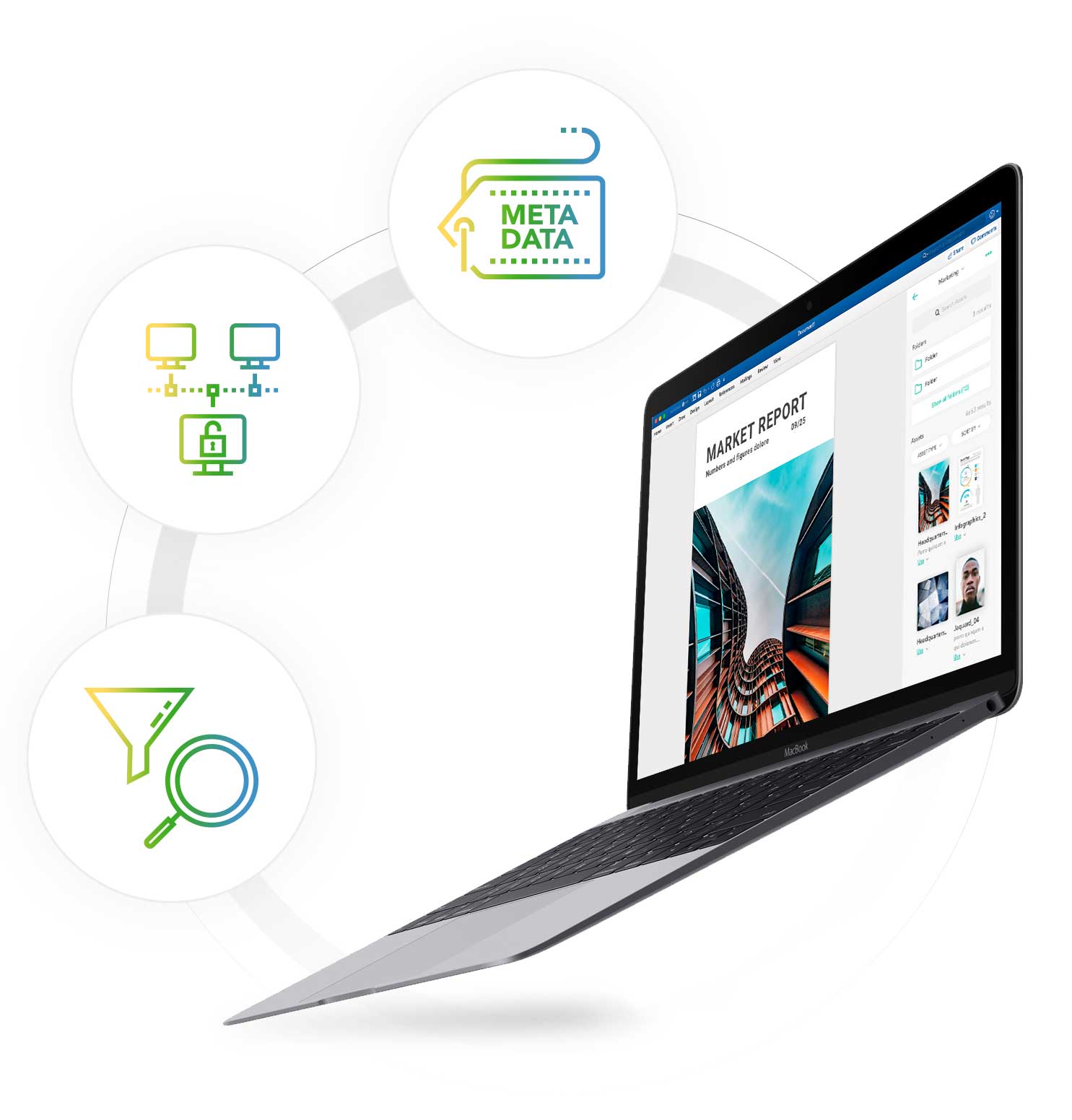 Secure governance for digital assets
Every time you upload a file to the central repository in Digizuite™ Media Manager, it's enriched with metadata and tags to make it easier for others to find it. The access and user rights ensure that the right people and markets get the right digital assets. Live search speeds up content usage for everyone in the organization.
Integration with Office 365
Digizuite™ Microsoft Office Connector supports all Office 365 products for Windows and Mac.
It's easy to search, filter and sort assets to find what you need, and insert into your document. When searching, you can filter on asset type and then choose to sort the assets on upload date or file name.
Manage brand assets effortlessly in Digizuite™ Microsoft Office Connector
You can see available assets on the right side of the open document and you'll get a preview of each asset. See a large thumbnail along with title, description, file size and dimensions. To use the asset, simply select the desired quality, click "Use" and the asset will appear in the document.
Digital asset synchronicity
You can open your Word, PowerPoint and Excel documents from Digizuite™ Media Manager. For instance, if you have a Word document in Digizuite™ Media Manager, you can open the Word application from the uploaded document in a single click. Saving the document back provides you with the option to create a new asset or a new version of the existing asset. We call it digital asset synchronicity.
Seamless DAM workflows to make you more productive
Find out more about how Digizuite™ DAM can help your brand.
In the cloud
Enjoy high levels of flexibility in your operating environment
Collaboration
Designed for enhanced collaboration and easy usability across all devices
Rights management
Access and permission control for secure collaboration
Automated workflows
Get automated workflows for easier content sharing and repurposing
Security first
Your security and peace of mind are our highest priority
Integrations
Compatible with all major software systems through an open API