Digital Asset Management at the heart of Episerver
- Create consistent brand experiences across channels
Back
All digital assets at your fingertips with the new Digizuite™ DAM for Episerver Add-on
Marketers, sales teams and Episerver editors can get immediate access to digital assets directly from within Episerver, without having to leave the Episerver environment. Digizuite™ DAM is seamlessly integrated with Episerver for easy search, management, sharing and repurposing of digital content across multiple channels from a single source.
Find the content you need
…when you need it. Your colleagues, vendors and partners can easily access, share and download marketing materials and logos from a single source. Your marketing team will love the fact that interruptions and sending bulk attachments via emails are in the past.
Make collaboration easy, anytime, from any device
Digizuite's Digital Asset Management software is a business-critical solution that lets you protect the entire lifecycle of digital assets - from creation and approval, to publishing and reuse. The Digizuite™ DAM for Episerver Add-on allows you to:
Approve digital assets and make them available for everyone or only a few selected users

Publish digital assets on multiple channels, update and withdraw

Quickly search digital assets from old campaigns and repurpose them

Archive digital assets and apply specific expiration dates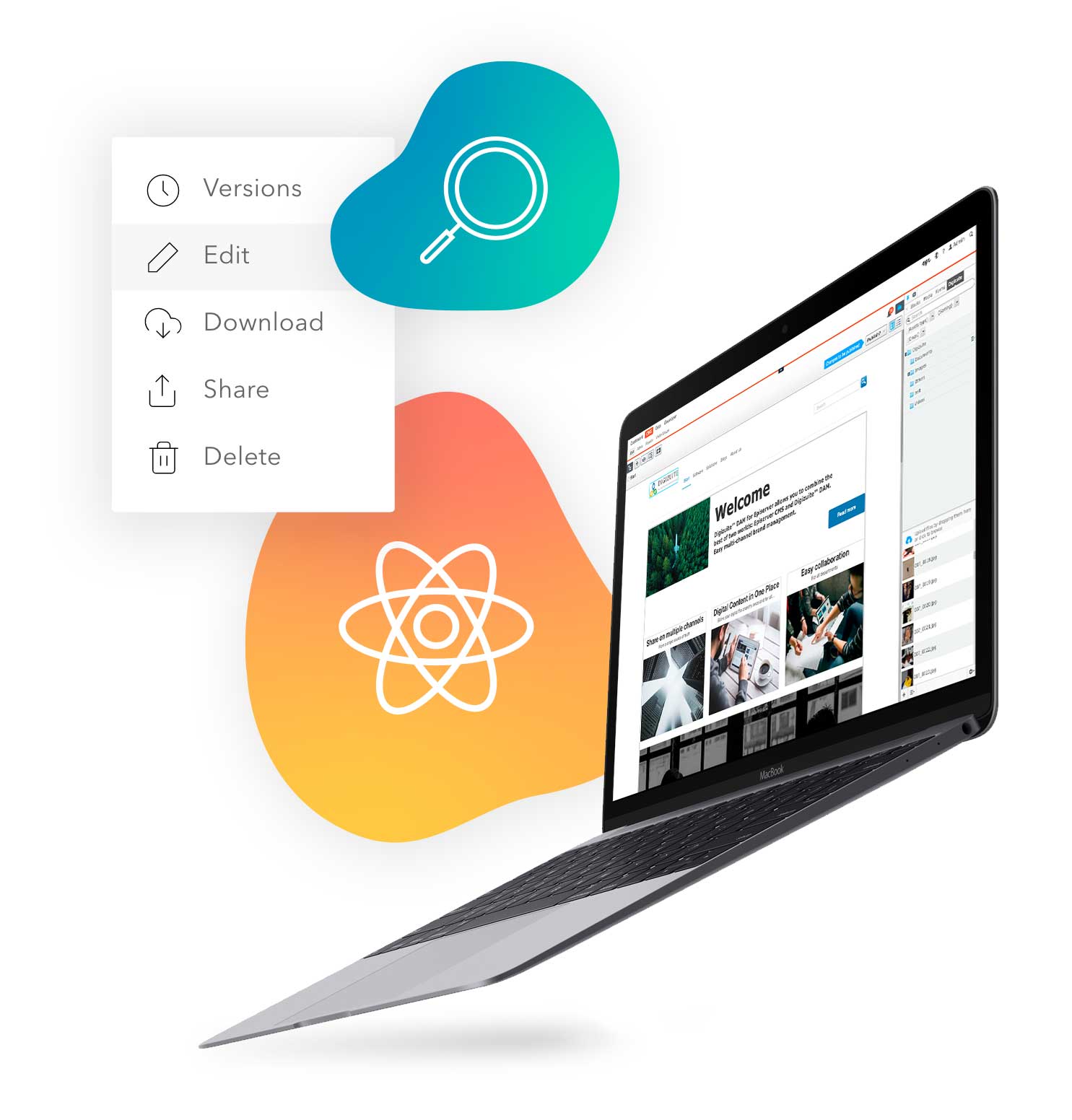 Why you'll love the Digizuite™ DAM for Episerver Add-on
From one platform, Episerver web editors can combine enterprise digital asset management software and customer experience management for consistent brand experiences across digital channels. Manage millions of images, videos, documents and PDF files in the quality and format you need. Digizuite™ DAM for Episerver transcodes and optimizes digital assets for all screen sizes to give your users the best experience on your website.
Powerful video capabilities, supporting all video formats to ensure high-quality video streaming on any device
Create automated workflows for approval processes and sharing

Synchronization of metadata between Episerver and Digizuite™ DAM

Integrate with all major MarTech tools: CMS, Adobe Creative Cloud, Microsoft Office, ERP, PIM, e-commerce, apps, and social media management tools)
Time-saving DAM features that make your Episerver platform stronger:
One place for all digital assets
Access control is based on role, group or asset level

Overview and control of which digital assets are being used, and where

Fast search (so you can focus on being creative)

Share content on multiple channels directly from Episerver (multi-channel distribution)

Automated cropping with predefined aspect ratio
Marketers get more value with Digizuite™ DAM for Episerver Add-on
Ambitious marketers with high volumes of content get more value from Digizuite™ DAM
than with any other DAM software:
Easy-to-use and intuitive user interface

Fast sharing on multiple channels from one platform

Improved team collaboration across departments

No more using marketing resources as librarians

Fast implementation of Digizuite™ DAM for Episerver – get up and running in 2 weeks

Professional service and support – we're with you all the way
Learn more on www.damforepiserver.com or check out the Episerver Marketplace.
With Digizuite™ DAM for Episerver Add-on, everything falls into place
The preferred choice for enterprises
Enterprises use our software for high-quality brand experiences, while simplifying digital collaboration. Digizuite™ gives you:
Brand consistency across channels

Faster time-to-market

Increased operational efficiency

New revenue streams/digital services
Can't wait to see the add-on?
If you wish to experience how Digizuite's digital asset management software can strengthen your Episerver solution, we'd be happy to give you a grand tour of our DAM software. Hit the button below.
In the cloud
Enjoy high levels of flexibility in your operating environment
Collaboration
Designed for enhanced collaboration and easy usability across all devices
Rights management
Access and permission control for secure collaboration
Automated workflows
Get automated workflows for easier content sharing and repurposing
Security first
Your security and peace of mind are our highest priority.
Integrations
Compatible with all major software systems through an open API